An overview
Underpinned by an extensive seven-year research endeavor, the WELL Building Standard™ stands as a comprehensive evaluation system encompassing facets of healthy living choices, natural lighting, and air quality. Its repercussions are notably reflected in heightened employee engagement, amplified productivity, and bolstered resilience within adopting organisations. As the corporate landscape intensifies in competitiveness, the retention of a thriving workforce is essential. In this context, the WELL Standard assumes a central role, strategically positioned to attract and retain a robust cadre of professionals.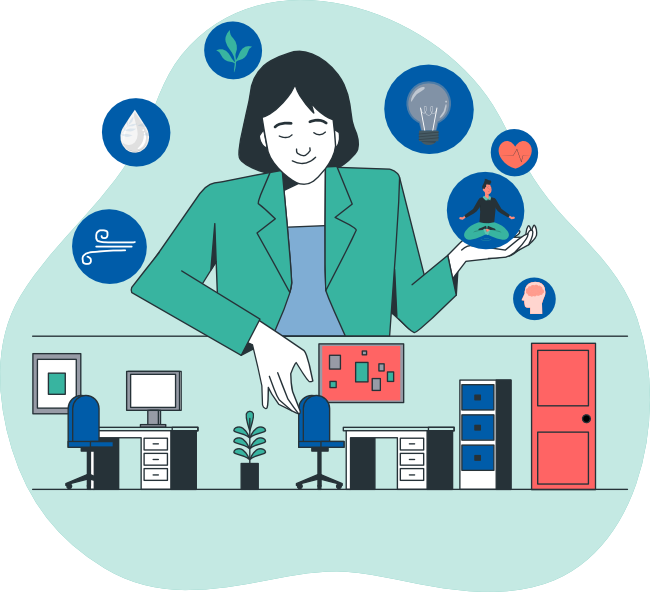 Why WELL matters
The WELL Building Standard, developed by Delos and administered by the International WELL Building Institute (IWBI) in collaboration with Green Business Certification Inc. (GBCI), focuses on the health and well-being of occupants. It concentrates on seven core concepts: Air, Water, Nourishment, Light, Fitness, Comfort, and Mind, each with compulsory preconditions and optional optimisations. Unlike other certifications, WELL Certification requires ongoing recertification every three years based on actual building performance data.
Acquiring WELL Certification for your workplace, residential development, or business premises showcases your commitment to prioritising people and creating spaces that impact their well-being favourably.
An example success case, the CBRE Global Corporate Headquarters, Los Angeles, achieved WELL Certification in 2013. After implementation, employees reported some notable outcomes. 93% reported more productive at the office. 92% experienced positive effects on health and well-being. 94% of them felt the office space supported their business performance.
WELL versus others
WELL, LEED, and BREEAM, while sharing monitoring and assessment processes, diverge distinctly. LEED and BREEAM prioritize environmental sustainability, contrasting WELL's holistic, human-centered focus on social sustainability and well-being.
Though LEED/WELL or BREEAM/WELL combos are possible, occasional overlaps lead to conflicting directives, as noted in BSRIA's "BREEAM, LEED or WELL" paper, citing instances like ventilation versus energy efficiency and health. Notably, BREEAM can be obligatory for specific planning applications.
The WELL Building Standard, a global pioneer in health and wellness, spans 200 projects in 21 countries, encompassing over 45 million square feet. WELL and LEED share the common objective of enhancing built environments, yet diverge significantly. LEED concentrates on environmental performance, while WELL prioritizes occupant health. It's worth noting that WELL's performance-driven approach ensures compliance, differing from LEED's point-based system.
LightFi and WELL
Don't we all want buildings where we feel WELL? The WELL Building Standard is more than a certification; it's a paradigm shift. Buildings become spaces that nurture well-being. WELL paves the way for healthier, happier environments in a time when well-being is important.
Enhancing indoor air quality, a core component of the WELL Building Standard, significantly influences office productivity. Poor air quality diminishes employee output, increases sick leave, and escalates healthcare expenses. Conversely, WELL-compliant workplaces experience favorable outcomes, including reduced absenteeism and heightened productivity.
The LightFi system, in conjunction with our advanced sensors, offers measurements of critical indoor environmental parameters in compliance with the WELL standard. These parameters encompass Carbon Dioxide (CO2) levels, Particulate Matter (PM2.5) concentrations, Total Volatile Organic Compounds (TVOC), temperature, and relative humidity. Monitoring these environmental factors and helps building managers adhere to the WELL building standard, contributing to the creation of healthier and more sustainable spaces. LightFi supports the role of building managers and facilities managers as they aim to adhere to these certification schemes.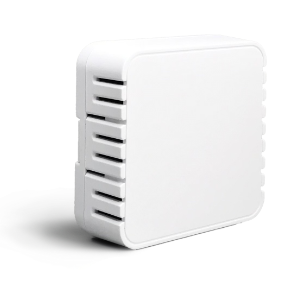 | | | |
| --- | --- | --- |
| Parameter | | WELL v2 Feature |
| Particular Matter 2.5 | PM2.5 | A01; A05; A07; A08 |
| Total Volatile Organic Compounds | TVOC | A01; A08 |
| Carbon Dioxide | CO2 | A03; A06; A08 |
| Temperature (dry-bulb) | T | A07; T01; T06 |
| Relative Humidity | RH | A07; T01; T06; T07 |