How it works

Plug & play sensors
Indoor air quality
Temperature
Occupancy

Real-time & forecast data platform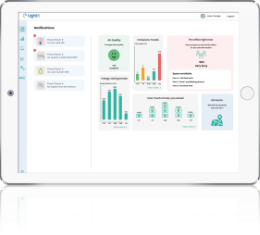 with optional BMS integration

Guaranteed Benefits
Healthy work environment
Occupancy-based energy use
Optimal use of space
Book a Demo
Benefits
Automatically action real time data to
Save up to 25% energy
Save up to 25% on energy each year with a return on investment within 6-9 months. This translates to a saving of up to 150 tonnes of greenhouse gas emissions per year for a 10,000m2 building – equivalent to 10,000 trees planted every year!
Optimise space use
​Does your space work for the people using it? Use our granular occupancy data to create flexible and safe workspaces while optimising your real estate capacity.
Provide a healthy work environment
When air quality, comfort and workspace are managed with real-time occupancy data, you can give employees the confidence to return to a productive and COVID-safe workplace.